Are your digital images capable of being migrated across platforms and formats over the years, given the propensity for technological innovation to bring on obsolescence? The solution may be to introduce Computer Output Microfilm into your preservation framework, combining Microfilming and Digitisation to ensure the accessibility and durability of your archived assets.


Risk Management
concepts for an efficient long-term storage of digital documents
While digitisation will facilitate content accessibility and discovery of your print assets, there are fundamental security concerns that need to be considered. Generally, the following are prerequisites to a well-functioning security system:
Verifiable, age-resistant carrier material (or media) constitutes the basis of a well-functioning data securing system;
Adding new analysing strategies to digital exploitation methods to ensure system independence;
Secured data have to meet a high legal claim;
The operation of a data securing system should neither be cost nor staff intensive;
Using synergistic effects to save money in other places;
The securing system should be plausible, safe and if need be, resistant to any eventual disaster.
Dual Data Securing with COM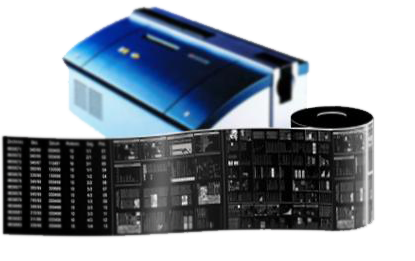 Microfilm in general fulfils all the above mentioned criteria, particularly when properly stored. W. & F. Pascoe's COM service enables a smooth and painless process to enable microfilm imaging of your digitised assets.
Furthermore, our COM service plots digitised documents of any kind at a 3600-fold miniaturisation (in relation to their area) on microfilm, and apart from simple document presentation, a machine readable index (via OCR) can be imaged as well to facilitate discovery and asset management.
For more information on how we can assist in your content preservation endeavours through COM, please get in touch with us to discuss what is possible for you.