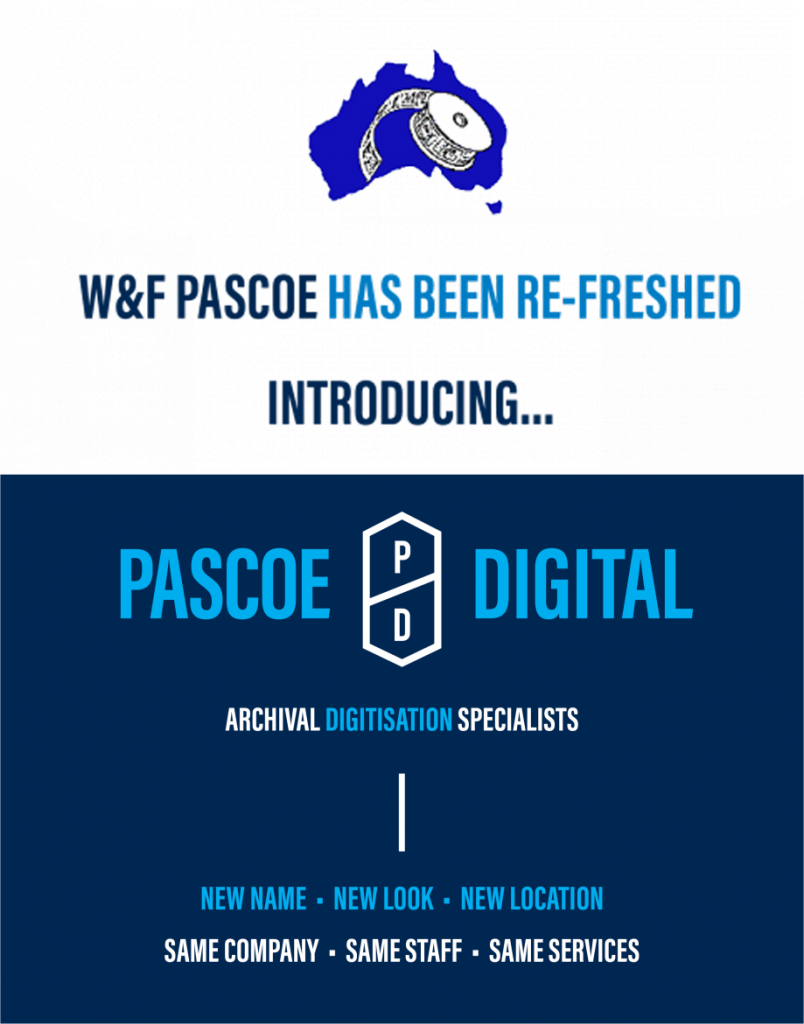 W. & F. Pascoe is an Australian service company providing microfilming and digital conversion services for print media.
Founded in 1957 by brothers Wilfrid and Frank Pascoe, we are one of the oldest document preservation companies still in operation specialising in the microfilming of newspapers, periodicals and manuscript type material.
As a natural extension of our archival services, we now offer an extensive range of direct digital capture services for documents, manuscripts, photographs, glass plate negatives and other media to complement our microfilm scanning services.
To learn more about how we can assist in your archiving needs, please peruse our website, or simply get in touch with us.
W. & F. Pascoe is in the Preservation business – our job has been, and always will be, to preserve valuable content. It just happens that our preferred medium is Microfilm. Microfilm, because when properly produced and stored, it secures a life extension of up to 500 years for the captured content, without need of replenishment, upgrades, or hardware replacement.
However, content stored on microfilm faces significant access limitations, particularly physical access limitations, as one copy can only be accessed physically by one person at a time, and discovery limitations, as any content stored has to be manually discovered by the user.
The solution was to scan and digitise physical assets – a service that we have been providing to clients for decades. Unfortunately technology moves at an astonishing pace, and with it, digital obsolescence becomes a real problem. Digitised assets stored on particular types of media are no longer accessible (remember Zip drives?), or in some cases, have deteriorated beyond recovery (optical media or magnetic tape decay). Perhaps particular file formats popular at the time is now inaccessible due to software obsolescence.
Where we come in…
---
[/et_pb_text][/et_pb_column][/et_pb_row]

W. & F. Pascoe's range of services bridges this digital-analogue divide by offering complementary solutions. We believe that by complementing each other, the shortcomings of microform can be overcome through digitisation, and vice versa.
Assets that have been previously microfilmed can easily have their accessibility and functionality expanded through digitisation. Assets that have been previously digitised can prevent data corruption, data loss, media degradation and avoid technological obsolescence through preservation on microfilm.
[/et_pb_section]
Our Clientele
Some of the organisations we have done work for...